The Finance Dublin Irish Government Debt Clock was set at midnight on June 30th 2009, when it was €65.278 billion. It updates the latest figures for the National Debt of Ireland. The clock is re-set periodically, to reflect changes in debt and deficit estimates from the Dept of Finance, the National Treasury Management Agency (NTMA), and independent economists.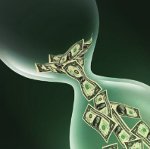 The Debt Clock, launched in July 2009, surpassed €85 billion, up from €65 billion in July 2010 and it has shown little sign of moderating in 2010 to date, rising by €8.3 bn since the end of December 2010.
This, as well as recent assessments from the IMF, Moodys and others underlines the advisability of deeper current and capital expenditure cuts than has been advised by the Government and the ESRI, as well as greater efforts than signalled to date to broaden the tax base, currently heavily reliant on PAYE workers, particularly those in higher bands.